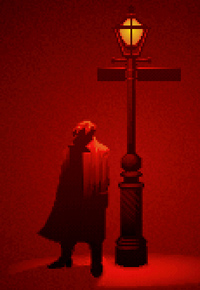 НОВОСТИ
English · Deutsch · Português · Français · Italiano · Русский · Español · Norsk · Česky · ελληνικά · עברית
эта страница доступна только на английском языке.
Jane Jensen's work
Jane Jensen's first encounter with storytelling occurred in 1991 when she started working at Sierra On-Line, where she gained skill in co-operating on various adventure games such as Police Quest 3, Ecoquest and Pepper's Adventures in Time. However, it was King's Quest VI, where she worked as co-designer at Roberta Williams' side, that she had her first real chance to show her talent to the gaming world. It is not a mere coincidence that King's Quest VI is generally considered as one of the best in the series. Many game players actually rate it as their favourite pure adventure game of all time.
It was with the acclaimed Gabriel Knight series, though, that Jane reached the mass-market public. The three instalments of the series won her a large - at times almost worshipping - fan-base and various awards from game magazines around the world. It was pivotal in building her name in the gaming world.
In 2002, Jane co-founded a company called Oberon Media, and under its label she released, in 2003 and 2004 respectively, Inspector Parker and Betrapped, two casual games with adventure elements, both featuring the already well-known tight plots which distinguish all of her work. Both games focus on the investigations of police inspector Parker and his attempts to solve Agatha-Christie style mysteries.
The many games she worked on earned Jane Jensen a wide recognition as the grand dame of interactive fiction, but she considers herself, at heart, a story-teller and a writer. Her first challenges in this direction were the novelisations of the first two games in the Gabriel Knight series. While her first work as a writer, Gabriel Knight: Sins of the Fathers, is in a sense a walkthrough to the game put into novel form and enriched with even more psychological depth and plot details, Gabriel Knight: The Beast Within is already a totally stand-alone novel.
In 1999, her first original novel, Millennium Rising, was published in hardcover by Del Rey. The success of the thrilling storyline, this time featuring a conspiracy theory mixed, as always, with a massive amount of well-researched background, was so great that in short time the novel was released also as an audiobook and, re-titled Judgment Day, as a mass market paperback.
Between 1999 and 2003, Jane focused on her fourth book, Dante's Equation, which was released in that same year by Del Rey in the U.S. and by Little Brown in the U.K.. The novel explores the relationship between science and the divine, good and evil, space and time, as it plays with the idea that all this could be summed up in a single physical equation.
Resumé of works
Games:
1992 King's Quest VI (co-designer)
1993 Gabriel Knight: Sins Of The Fathers
1996 The Beast Within: A Gabriel Knight Mystery
1999 Gabriel Knight 3: Blood of The Sacred, Blood of the Damned
2003 Inspector Parker
2004 Inspector Parker: Betrapped
xxxx Gray Matter (a.k.a. Project Jane Jensen): was due to be released by The Adventure Company in 2004, has been put on hold. UPDATE! Gray Matter to be released 2007 by Anaconda.
Books:
1996 Gabriel Knight: Sins of the Fathers
1997 Gabriel Knight: The Beast Within
1999 Millennium Rising (a.k.a. Judgment Day)
2003 Dante's Equation