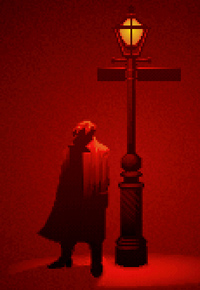 NEWS
English · Deutsch · Português · Français · Italiano · Русский · Español · Norsk · Česky · ελληνικά · עברית
Current GK Status
Gabriel Knight 3 (Blood of the Sacred, Blood of the Damned) was released in 1999, and was eagerly snapped up by hordes of fans the world over. The game was not released without criticism, and there were stories of problems with the engine and the graphics – but as a totality, this third Gabriel Knight game was welcomed and valued. In particular, the storyline was engrossing, and added to the mystique of Gabe himself. More than ever, it was apparent that Gabe's place in history, within the GK world, was pivotal and a fruitful topic for debate and wonder.
Above all, it left the fans longing for more, waiting for the resolution of the stunning finale in GK3. Jane Jensen, the game designer, clearly had a rich and fascinating continuation in mind, and game players hoped at the time that it would not more than perhaps two to three years before GK4 appeared to satisfy them.
Alas… the years passed… and adventure games have suffered not so much blow after blow, as one final and humiliating fate, that of not even being given the chance in the field. Nothing is as shameful as being left to sit on the sidelines when all one's fellows are out fighting the good fight, and adventure games have unfortunately been relegated to the awful bench for the non-combatants, the reserves, the "don't call us, we'll call you"ers. And where did that put Gabriel Knight 4?
On the bench. Just… on the bench.
Major computer game companies aren't giving adventure games time, resources, permission to breathe, room to move… They maintain the rights to the old classic games but do nothing with those rights. And this is a great pity, because there have always been enough game players interested in the classic games to make them worthwhile.
It's not that there was ever an announcement that Gabriel Knight 4 would not be created. There have been numerous attempts to promote its making, not least of which have been discussions Jane Jensen and Robert Holmes have had with Sierra and possibly with Vivendi, The fans have not been idle – one loses track of precisely how many petitions have been made, and how many emails have been sent to Vivendi asking for GK4 to be made.
It's tempting to shrug one's shoulders and say, "Enough has been done. It's not going to happen." And there are fans who have done that, dispirited by the lack of success thus far. But the story of Gabriel Knight is such a fascinating one, so richly and vibrantly told by Jane Jensen, that it's more than a mere shame that the next game in the GK series hasn't been made.
It's intolerable.