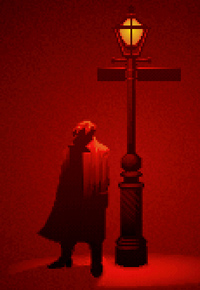 NEWS
English · Deutsch · Português · Français · Italiano · Русский · Español · Norsk · Česky · ελληνικά · עברית
Who is Gabriel Knight?
Gabriel Knight was born in New Orleans on January 28, 1963. Little do we know about his childhood: he probably spent it with his parents, Philip Knight and Margaret Templeton Knight, and with his father's family. In fact, his mother's family disapproved of her marriage to Philip and did not want to keep in contact.
When Gabriel was still of an early age, his parents died in what was said to be a car accident, and he was raised by his father's mother, Grandma Knight. We don't know whether he did ever met his grandfather Henry. What we know is that at school he met his lifetime friend Mosely, spent most of his time during his childhood and youth hanging out with him, and then started living on his own in the French Quarter of New Orleans, running a small bookshop at 313, Bourbon Street. In the same period, he began his career path as the eternally broke mystery writer - his study was a desk in the bookshop rear, a room which shared also the functions of living room and bedroom. He also lived as a serial lover: having a way with women, there were few who could resist his appeal and therefore were vulnerable to having their heart broken into pieces by his refusal to be committed to a stable relationship.
All of this started to change for him in 1993 when his need for an assistant to help him runn the bookshop while he dedicated himself to writing caused Grace Nakimura to enter his life. She was a talented Yale student, originally from New York, and her family was a Japanese traditional one. Grace, needing a break from her studies in order to figure out what to do with her life, and in need of money while she did this, answered Gabe's newspaper advertisement, was hired, and came to work at St. George's Rare Books.
In that same year, Gabriel was searching for some inspiring material for his newest novel. His opportunity came when Mosely involved him in his current assignment - the Voodoo Murders case. With the passion of a professional detective, Gabriel joined the investigations, trying to gather as much material on Voodoo as he could and involuntarily opening a Pandora's box with much darker contents than he could ever have imagined.
In fact, Gabe not only picked up the trail of a voodoo cult focusing on an evil spirit called Tetelo, but he discovered that he himself was the descendant of an ancient lineage of German Schattenjägers - shadow hunters - whose task was to fight and destroy the forces of darkness in the world. His family history was tied with that of Tetelo through a family talisman which was lost by one of his ancestors, who gave it to Tetelo at the end of a torment-filled story of love and betrayal. Gabriel had not only to stop the voodoo cult but also to regain the talisman and destroy Tetelo. WHat he did not know was that his one true love, Malia Gedde, was a descendant of Tetelo and was being possessed by the evil spirit: the destruction of Tetelo led inevitably to Malia's death, which caused Gabe terrible anguish.
However, the Voodoo murders case turned out to be also a blessing for Gabriel's finances. Not only did he manage to recover some money from the voodoo hounfour before its destruction, but he turned his experience into a book that became an instant best-selling novel, garnering him enough money to move to the old family manor in Ritterbserg, Germany, and to refurbish its decaying grandeur.