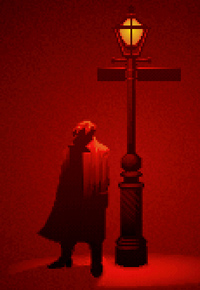 NEWS
English · Deutsch · Português · Français · Italiano · Русский · Español · Norsk · Česky · ελληνικά · עברית
Why we need GK4
Arcane secrets and the grotesque beasts who delight in the black night and the blood of mankind, the knife-edge of danger and excitement, the bitter sweetness of loss, the dark and confused complexities of human nature, the cruel daggers of shadows and the creatures of darkness... Gabriel Knight, the series, has taken a stunning and evocative journey through some of the most fabulous parts of the world, but especially through some of the most powerful and dangerous landscapes of the fantastical. Part horror, part fantasy, part historical mystery, it's an adventure with an ever-increasing sense of mysteries being unravelled, layer upon layer. Gabe himself is the most intrinsic mystery of all.
The series is the work of Jane Jensen, published by Sierra. Its rights are now held by Vivendi Universal.
For those who have played the first three games, you'll be aware of Gabe's nature and family history. You'll know that GK3 reveals the source of the Ritter heritage - a stunning revelation. Spoiler You'll know the powerful and bittersweet ending of GK3, which ends with Grace's controversial departure. Is she pregnant with Gabe's child? Has she headed off to India? Is it her role to bear his son to be the next Schattenjäger? The third game ends with so many questions left unanswered. What forces of evil will converge upon Gabe, or upon those to whom he's closest? And will Gabe finally learn that his southern charm isn't a substitute for maturity?
Jane Jensen has mentioned that she planned GK4 around the idea of ghosts, regrets, things left undone. With Ms Jensen's fine hand at the helm, such a theme would be sure to combine richly complex mysteries, some serious investigating, high adventure, probably some romance, and plenty of spine-tingling moments. One can almost imagine, dimly, (as if the game itself were a transparent spectre) what a subtle and powerful adventure game it would be.
To leave the series undone is an affront to the fine writing talent and research of Jane Jensen. It's a torment to the fans, an unsatisfactory banquet because we know that our hunger to learn of what lies at the heart of the mysteries will be forever unfulfilled, unless GK4 is created. It's the edge of a cliff where we teeter, frantic for the story resolution, lost in the fog-laden darkness where the shadow-hunter cannot go... because the game has not been created.