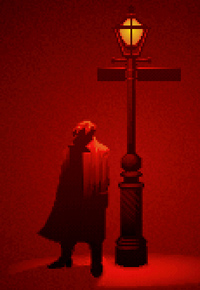 חדשה
English · Deutsch · Português · Français · Italiano · Русский · Español · Norsk · Česky · ελληνικά · עברית

העלילה
ב-Sins of the Fathers, המשחק הראשון בסדרה, אנו פוגשים את גבריאל נייט, סופר מקסים ופרוע מניו-אורלינס, שמצליח לגמור את החודש ע"י ניהול חנות לספרים נדירים שנקראת St George's. הוא מיוסר בלילותיו ע"י סיוט חוזר, שמתאר טרגדיה מסתורית מן העבר, שמסתיימת במוות; בנוסף לכך, הספר החדש שלו שקשור בוודו, לא מתקדם כשם שהוא היה רוצה.
מצבו משתנה באופן קיצוני כשהוא מתחיל לעקוב אחרי סדרת רציחות ברוטאלית שמתקיימת בעיר- ונראה כאילו הרציחות מתקשרות אל כת הוודו העתיקה של ניו-אורלינס. בתקווה לקבל השראה לספרו החדש, גבריאל מתחיל חקירה משל עצמו, וכשהרמזים מסתבכים, נראה כי הם מובילים למאליה גדי (Malia Gedde), אישה בלתי-נגישה מן המעמד העליון, בה גבריאל מתאהב. אך הרמזים גם כן מובילים, באופן מפתיע, לגבריאל עצמו. האם זה צירוף מקרים או גורל?
צל קיים בהיסטוריה המשפחתית שלו, וחטאי האבות יפלו על צאצאיהם ("אבות אכלו בוסר ושיני בנים תקהינה"). כדי להציל את חייו ואת חיי יקיריו, גבריאל יצטרך להתעמת עם גורלו, ולהחליט את ההחלטה החשובה ביותר בחייו.
ספוילר למעשה, גבריאל מגלה שהוא צאצא למשפחה גרמנית עתיקה של שאטנייגרים- מילולית "רודפי צללים", משרתי האור שנלחמים בכוחות הרוע מאז ימי קדם. משפחת ריטר נפלה להידרדרות איטית מאז התקופה בה אחד מאבותיו, גונתר ריטר, התאהב במכשפה האפריקאית אותה הוא צד ואז בגד בה – ובתהליך, איבד גם את חייו וגם את הקמע המשפחתי. סביו של גבריאל, היינץ ריטר, ניסה לברוח מחובתו כשחיפש מחסה בארה"ב , ושינה את שמו להנרי נייט. וכשקרוב המשפחה הנותר האחרון של גבריאל, וולפגאנג ריטר, מקריב את חייו כדי לזכות מחדש בקמע המשפחתי, התפתחות האירועים תכריח את גבריאל לקבל את תפקידו בתור השאטנייגר , לעצור את כת הוודו ולהביס את טטלו (הרוח הרעה אליה נהפכה המכשפה האפריקאית הנבגדת). למרות זאת, הוא לא יוכל לעשות זאת מבלי לגרום למותה של מאליה גדי- צאצא ישיר של טטלו, ואהבתו הבלתי-מושגת של גבריאל.